Life At Nyakibale Hospital
"The ECPs save lives. Their mortality rate for malaria is 2% compared to a national rate of 3%-4%. Mortality due to trauma is cut in half compared to other figures for the region."
Written by: Omeed Saghafi MD, GECC volunteer
Since there is only one major airport in Uganda, getting to Nyakibale requires a 6-8 hour drive through chaotic, traffic-packed cities, down rock-laden dirt roads, back onto asphalt roads, dodging motorcycles, cows, goats, pedestrians, and into a part of Uganda made up of small villages separated by a beautiful landscape of endless green rolling hills. Nyakibale is in southwestern Uganda, located near the foothills of the Rwenzori mountain range, a few hours from the border with Rwanda and the Democratic Republic of the Congo.
Nyakibale Hospital is one of two private non-profit hospitals that serve as the district hospital for the Rukungiri District. This means that anyone in the region who is truly ill is sent to Nyakibale for care. It hosts a nursing school on sight and is a large compound of dorms and hospital wards where the students live around the clock: they eat, drink, and sleep medicine because it's a part of life there.
Nyakibale's Emergency Department (ED) and its Emergency Care Practitioners (ECPs) see 500 patients per month and those at the newer program in Masaka are seeing 1000 patients per month. Just over 20% of these patients are children under 5 years old.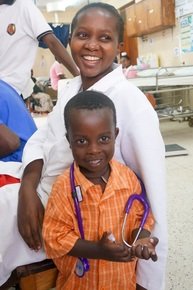 The patients seen by the ECPs at Nyakibale are SICK. In America, I treat sick patients. However, I also treat a great deal of other things: patients with back pain, stubbed fingers and toes, the common cold, you name it. Conversely, in Uganda, when someone goes to the Emergency Department it is usually because they have a life-altering injury or illness and have a significant chance of dying if they do not receive care.
The majority of patients seen in the ED at Nyakibale are so sick they would be rushed to an operating room or intensive care unit in the United States. These things are not readily available in Uganda, but at Nyakibale the ECPs do the next best thing: they see these patients within minutes and get treatments started right away. The mortality benefit of the program is clear.
The ECPs save lives. Their mortality rate for malaria is 2% compared to a national rate of 3%-4%. Mortality due to trauma is cut in half compared to other figures for the region.