Initial Impressions From Masaka
Written by: Kevin Fischer, Research Associate, GECC
Masaka, Uganda is full of grasshoppers, matooke (a starch that looks like a green banana but tastes like a plantain), wonderful people, a vibrant culture, and is home to Global Emergency Care Collaborative's most recent undertaking at Masaka Regional Referral Hospital (MRRH). Masaka is located approximately 140 km southwest of Kampala on the Kampala-Mbarara highway, and is the headquarters of Masaka District (you drive through Masaka on the way to GECC's project at Nyakibale Hospital). Over the last few months, I have had the opportunity to be part of a research team that has developed and undertaken a pilot research study to collect baseline data about the Masaka patient population to inform the introduction of an Emergency Care Practitioner (ECP) program in Masaka's Accident & Emergency Department.
The research team is comprised of the Research Coordinator, Rashidah Nambaziira, and myself, along with new GECC team members Adrine, Salma, Shumayiyah, and Gloria. Our task is comprised of three objectives: 1) to capture and record the patient data of all children under 12 years old that access the Outpatient Department; 2) to record every patient that enters the Accident & Emergency (A&E) Department; and 3) to perform follow-ups on every patient that is admitted to the ward. Furthermore, the research team works to capture all emergencies that are managed on the maternity ward, such as caesarean sections due to obstructed labor. Most importantly, GECC recently partnered with Ronald McDonald House Charities to implement an ECP program, in which the baseline data the research team currently collects from Masaka will be essential to test the hypothesis that non-physician clinicians trained in emergency care can have significant impacts on morbidity and mortality.
Masaka Hospital is one of ten large regional referral hospitals run by the government of Uganda. Over the last few years in partnership with a Japanese NGO, Masaka has rebuilt the Outpatient Department and Accident and Emergency Departments, both of which are among the nicest medical facilities in Uganda. Masaka boasts a complete team driven by Dr. Florence, Dr. Wongoda, and their staff of doctors, medical officers, residents, medical students, nurses, nursing students, and general staff. The volume of patients at Masaka Hospital is heavy compared to GECC's pilot site at Nyakibale and other clinics. Ugandans have access to free health care.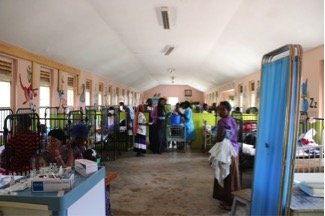 The Outpatient Department sees about 80 patients a day while A&E receives 30-50. A&E is open 24 hours a day, 7 days a week and is staffed by a team of medical officers, nurses, and a doctor on-call. The department even operates it's own ambulance for ward transfers, and is the first choice destination for the police ambulances that operate in Masaka District.
The ECP program will enable the A&E department to implement acute medical care to all patients in a quick, efficient, and professional manner by increasing the amount of trained practitioners that can effectively respond to an emergency.
The staff at MRRH, as well as citizens in town, has been extremely helpful while implementing the project. Multiple ward nurses have helped our team figure out how to navigate the different environments, especially the bulging Pediatric and Maternity wards.
Hudson, a crucial friend of GECC, has helped us build the infrastructure we need within the hospital and continually works with the team to ensure the best possible outcomes. Most notably, patients at the hospital have been especially receptive to the research that we are performing. Most patients appreciate the follow-up calls because it allows them to voice concerns and new complaints. One patient, whom Rashidah called, even went so far as to personally thank her and send GECC a phone card to use for more follow-ups appointments.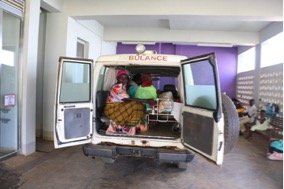 The partnership between GECC and Masaka Regional Referral Hospital is a brilliant opportunity to improve acute, emergency care services on a large scale. The task-shifting ECP program has enabled Nyakibale Hospital to stay open longer, educate more individuals, and ultimately improve the quality of patient care of the sick and injured in Rukungiri.
The project at Masaka Regional Referral Hospital will boost the output of the ECP program. By working at a large, public hospital, GECC hopes to increase the capacity of Emergency Care Practitioners on a national scale. So far, the research project at Masaka has been received with open arms, and with patience and hard work we look forward to the day when ECPs will start to practice in Masaka's Hospital's Accident and Emergency Department.