2020 Year End Giving Challenge
The COVID-19 outbreak and the subsequent quarantine of communities both in the U.S. and Uganda have caused many challenges that have affected GEC's bottom line in 2020. To combat this, we are:
Hosting our Annual Year End Fundraiser virtually from Dec 1-31, 2020
Our goal for all of December is to raise $40,000 – enough to save 350 children's lives
With your gifts, we commit to: 1) buy supplies and protective equipment for our ECPs; 2) train new frontline emergency health care providers; and 3) save 350 kids lives.
This #GivingTuesday, help us give the gift of life to 100 children by joining our movement. For every $117 invested in our program, 1 child's life can be saved. Think about that – $117 to save a child's life. This is incredibly compelling evidence for the importance of this program. Not to mention a very small sum of money to save a child's life.
We are humbly asking you, our most ardent supporters, to help us show strength through this time of adversity. By becoming a donor this week, your contribution will help us overcome the many challenges of 2020 and build resilience for 2021.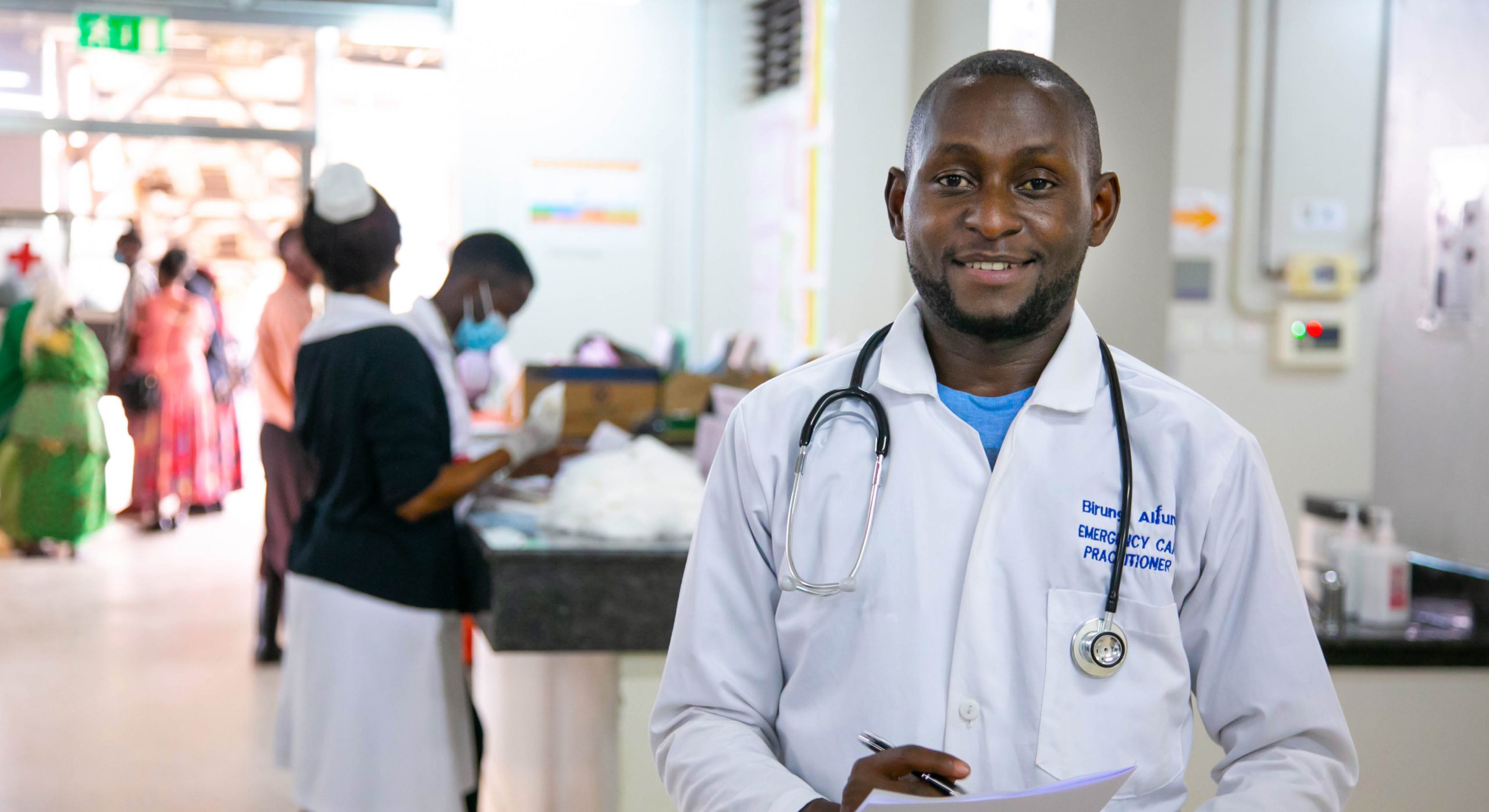 COVID-19 Emergency Action Fund
Global Emergency Care has launched the Emergency Action Fund in response to the COVID-19 crisis.
Now, more than ever, your support of GEC is critical. While COVID-19 has been slow to arrive in Africa, or at least has been slow to be detected there, Uganda and other African countries are bracing for exponential contagious spread.
Our Emergency Care Practitioners (ECPs) are some of the only specialist emergency care providers in Uganda and are the most equipped to deal with the COVID-19 crisis there. They are on the front lines of this pandemic as it spreads across Uganda, and are the communities' best hope for triaging COVID-19 symptoms and providing research-based public health education to a population already receiving misinformation and experiencing fear.
To respond to this crisis, we are launching the Emergency Action Fund in order to help Uganda respond to:
1) The local COVID-19 crisis;
2) The long-term surveillance of COVID-19 in the country; and
3) Other public health threats in the future.
But we can't do this without you!
We urgently need your help. Gifts of all sizes are welcome.
Through this difficult time, our commitment to our ECPs, staff, their families, patients, partners, and emergency care development in Uganda is stronger than ever. Together, the actions we take can make a world of difference in the lives of so many.
All donations are tax-deductible. GEC is a 501(c)3 nonprofit organization. Gifts by check or money order can be made out to Global Emergency Care and mailed to: 419 N. Harvey Avenue, Oak Park, IL 60302.
For more information on how to make a gift, please email contact@globalemergencycare.org