Education And Empowerment In The Fight Against Ebola
Written by: Dr. Stacey Chamberlain, GECC Vice-President and Co-founder
Ebola has been all over the news. While the epidemic rages on in West Africa, those of us elsewhere in the world have been talking about how to prepare ourselves to prevent spread of this deadly disease. Nowhere is this more important than in other resource-limited settings where the risks are greatest.
As you've probably heard many international health experts state, resource-rich areas of the world, such as the United States, are not at significant risk for continued spread of Ebola, not because an American is less susceptible to the virus than a Liberian, but because we have the resources to deal with a contagious illness such as Ebola. In the U.S., we have mechanisms in place to screen for the disease, networks to communicate information, protocols and equipment to protect ourselves and particularly our health workers, and optimal supportive medical care for our patients.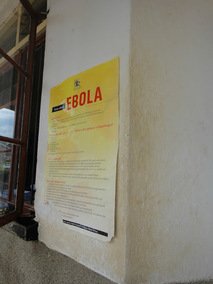 Although Uganda has not been affected, yet, by the current outbreak of Ebola, Uganda has faced Ebola outbreaks in the past and is certainly at risk. Ebola is just another among many causes of preventable death in resource-limited settings throughout sub-Saharan Africa, and the best way to fight it is through simple education. If family members, the community, and health care workers are educated on how to protect themselves, we could stop this virus in its tracks. That's why Global Emergency Care Collaborative's programming focuses on education and empowering local healthcare providers to have the knowledge they need to detect and treat Ebola and other life-threatening conditions, in order to save lives.
The current Ebola outbreak has claimed the lives of more than 3400 patients this year. This is a real tragedy and a true humanitarian crisis. As is the tragedy that over ½ million people die every year from malaria, 1.5 million from diarrhea, and over 3 million from pneumonia, because so many of these deaths could be prevented with health care workers trained to detect and treat these severe conditions. Join GECC in combating Ebola and all causes of preventable death by empowering those most affected to fight the good fight.