ECP Educational Outreach In Ibanda
Written by: Caleb Dresser, Uganda Program Director
In addition to their clinical role in the Emergency Department, GECC's Emergency Care Practitioners (ECPs) are dedicated educators. This week, two of our Qualified ECPs, Birungi Alfunsi and John Bosco, put their teaching skills to work as instructors in an all-day training session given to ambulance crews from several hospitals in southwestern Uganda. The training, which took place at Ibanda Martyrs Hospital, was conducted in collaboration with Humanitarian Help for Uganda, Verl e.V., a German NGO that is working to expand ambulance services in Uganda.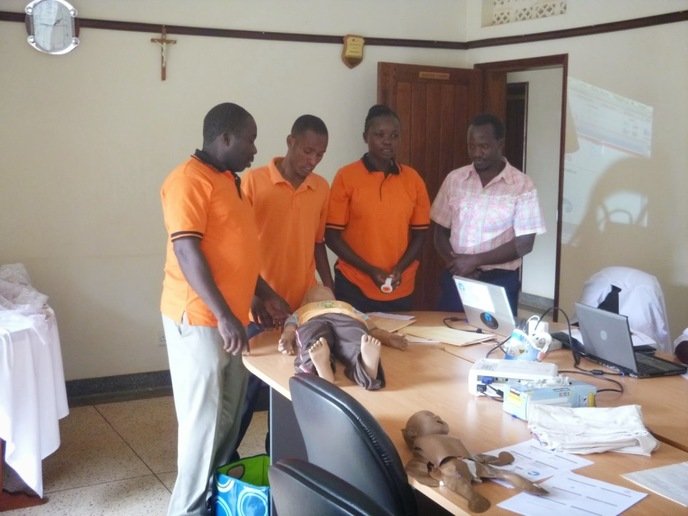 The day began with two lectures on trauma management (Picture 1). This is a crucial skill set, for Uganda has an enormous burden of traumatic injury, especially from traffic accidents involving boda-bodas, the small motorcycles that are common throughout the country.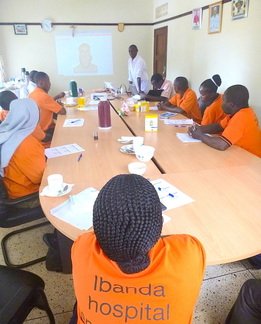 After a sociable lunch of boiled matoke (plantains), rice, and fish, the learners got the chance to put the newly-taught skills into practice with a series of simulations.
John Bosco began the first exercise by carrying a life-like rubber manikin of a child though the classroom door, looking wild-eyed and terrified, asking for help. Rumbles of laughter quickly subsided as the members of the ambulance crew got to work with their trauma assessment. Partway through the case, they discovered that the "child" had a pelvic fracture, and got a hands-on lesson in how to apply a pelvic binder (Picture 2). After two more lectures covering prehospital management of burns and obstetric emergencies, and a few more simulated cases, it was time to return to Rukungiri. The ambulance teams were clearly pleased, while Alfunsi and JB could finally relax, proud of a job well done.