Breaking Barriers In Emergency Medicine Education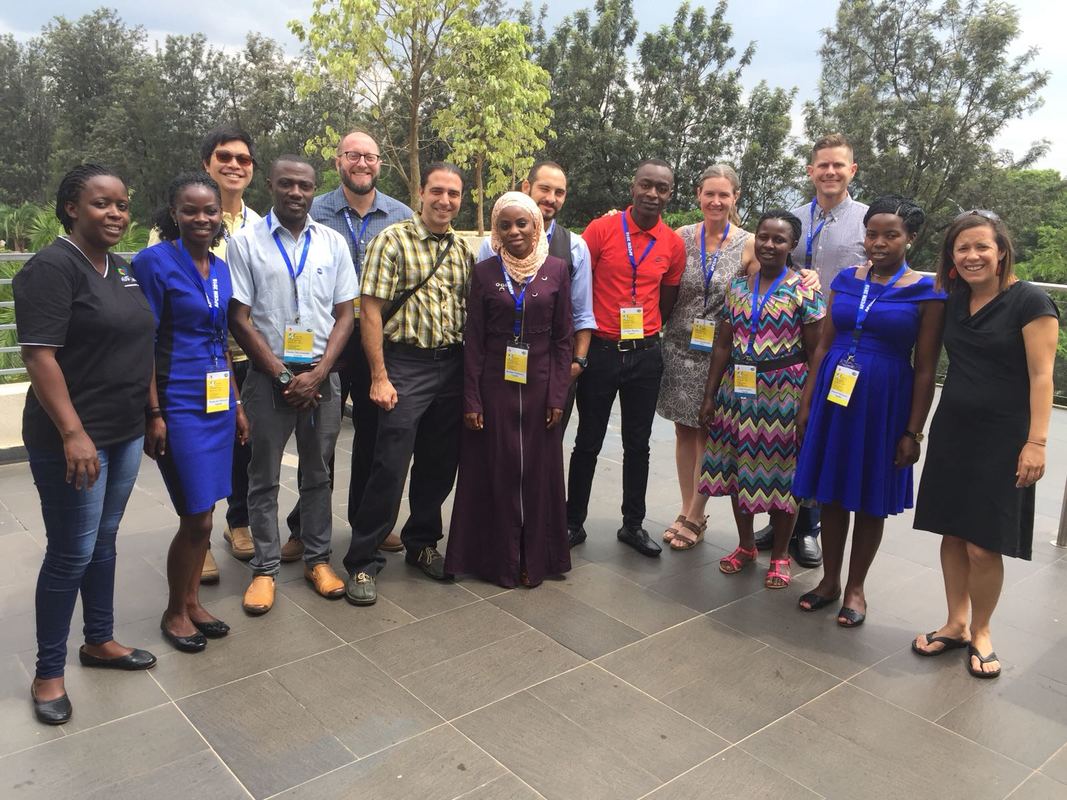 Our team was thrilled to participate in the 4th African Conference on Emergency Medicine this month in Kigali, Rwanda. Thanks to the conference's close proximity to Uganda, 18 GEC team members were able to attend the three-day event, from Emergency Care Practitioners, researchers and students, in addition to U.S.-based board members, staff, and volunteers.
Nyakibale Research Coordinator, Adrine Kusasira, and Research Associate, Charles Ndyamwijuka, did an excellent job in their first presentation. They worked with GEC volunteer, Ashley Pickering, to present on factors contributing to delays in emergency medical care at Nyakibale Hospital in rural Uganda.
GEC board member, Mark Bisanzo, presented on management of acute heart failure in low-resource settings, while Stacey Chamberlain, also a board member, presented on global partnerships in emergency care. GEC volunteer, Greg Gaskin, presented his paper on Information Technology Supporting Emergency Care in Sub-Saharan Africa: A Scoping Review and Commentary.
Our team also participated in a full day stakeholder meeting with the Emergency Medicine Uganda community. It's an exciting time for emergency medicine in Uganda as partners continue to develop relationships and build coalitions that drive the growth of emergency medicine by Ugandans for Ugandans.
We're newly energized from learning about other innovative programs and models in emergency medicine across Africa. The GEC team returned to Uganda excited to implement new ideas, foster relationships with new friends, all the while working hard to move emergency medicine development forward across Uganda.
GEC PRESENTATIONS
Building It so They Will Come: Factors Contributing to Delays in Seeking Available Emergency Medical Care in Rural Uganda and Surrounding Countries

A Systematic Literature Review
Ashley Pickering, GEC Volunteer
ED Patient Case Studies
Kusasira Adrine, Nyakibale Research Coordinator
Community Focus Groups
Ndyamwijuka Charles, Nyakibale Research Associate

Global Partnerships in Emergency Care
Stacey Chamberlain, GEC Co-founder and Development Director
Management of Acute Heart Failure in low Resource Settings
Mark Bisanzo, GEC Co-founder and Director of Programs
Information Technology Supporting Emergency Care in Sub-Saharan Africa: A Scoping Review and Commentary
Greg Gaskin, GEC Volunteer
Derivation and Validation of a Chief Complaint Shortlist for Unscheduled Acute and Emergency Care in Uganda
Brian Rice, GEC Research Director
Sepsis Outcomes in a Ugandan ED Staffed by Non-physician Clinicians
Sal Calo, GEC Volunteer
Please consider a donation today. Your gift will ensure that more GEC's Ugandan team will have future opportunities to attend conferences and other professional development opportunities. Thank you!