Dr. Casey Patrick's Podcast Interview About His Experience With GEC In Uganda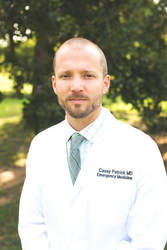 Dr. Casey Patrick recently returned from a volunteer stint with GEC teaching Emergency Care Practitioners in Nyakibale and Masaka, Uganda. Dr. Patrick is Assistant Medical Director for the Montgomery County Hospital District EMS service and works in multiple community emergency departments in the Greater Houston area.
Below is an interview of Dr. Patrick about his experience with GEC in Uganda. He was interviewed by his MCHD Paramedic Podcast co-host, Dr. Robert Dickson. Dr. Dickson interviews Dr. Patrick about his recent medical journey to Uganda. Learn about the state of prehospital medicine in Uganda, several interesting cases that you probably won't see here in the United States, and find out how you can help the cause.
The MCHD Paramedic Podcast is a place for prehospital providers to discuss best practices and offer clinical insights relevant to our daily practice. MCHD Medical Directors Dr. Robert Dickson and Dr. Casey Patrick invite you to explore the many aspects of prehospital care. Along the way you can expect guest appearances by some of the brightest minds that influence modern EMS.