Written by Kevin Fischer,  GECC Research Associate
The power goes out and the Emergency Department freezes. No one moves. JB, who is in the middle of suturing a scalp laceration, has to wait patiently for the generator to kick in and the lights to come back on. When the light returns, he has to lean in close to the wound to make sure the sutures are set correctly because the surgical light has stopped working. Since the power can be fickle in rural Uganda, lack of light can become a serious problem. However, the Emergency Care Practitioners and Global Emergency Care Collaborative staff have implemented a simple and innovative solution: headlamps.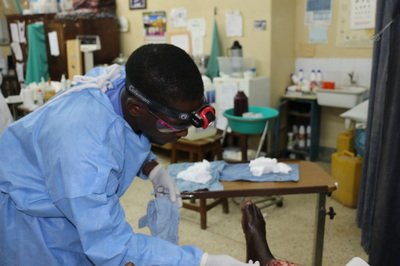 The Emergency Department at Nyakibale Hospital now contains three headlamps, each with rechargeable batteries. The headlamps were purchased in the United States for a relatively low-cost and brought to Uganda by Dr. Mark Bisanzo. Since their arrival, the headlamps have been indispensable, and are used on a nightly basis for suturing, IV catheter placement, PERRL (pupils: equal, round, reactive to light) exams, looking into ears and deep wounds, and simply walking around a dark ED. Not only have the headlamps solved the problems of power and the out-of-commission surgical light, but they also are more effective at providing powerful light directly where the ECP wants it to be. The lights are either placed on the ECP's head, or a nursing student is in charge of listening to where the ECP wants the light placed.
Importantly, this is a sustainable solution to an issue that exists in hospitals in low-resource settings throughout the world. Power is expensive and does not always work. Furthermore, hospital grade surgical lamps are necessary but can break often, are hard to replace, and are prohibitively expensive. Headlamps, especially when they are coupled with rechargeable batteries, alleviate these issues and can be used anytime, anywhere, and by anyone. Now, when the power goes out, JB can easily continue to suture in a safe and efficient manner, and the Nyakibale Emergency Department continues to serve patients effectively.